Visit to the GAIA Ecovillage
Tour
350 pesos
Led by Atahualpa Caldera Sosa
GAIA, the Interdisciplinary Environmental Action Group, is devoted to generating sustainable alternatives in urban, suburban and rural communities.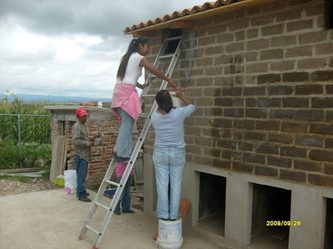 They have developed an ecovillage located just 15 minutes away from San Miguel which is a model of sustainable living with adobe houses, solar panels, dry (compost) toilets, a windmill, solar oven, and a water collection system with filtration and a 90,000-liter cistern.
Schedule
9:30 - Meet at the Center for Global Justice, Calzada de la Luz, 42, between Loreto and Animas, to leave for GAIA.
10:00 - 12:00 - Introduction to history and mission of GAIA with a brief explanation of their project, tours of the houses and explanations of the various eco-technologies they are using and the processes involved in building them
Please make reservations by March 16 by clicking the link below or by emailing the Center for Global Justice at admin@globaljusticecenter.org. The cost of 350 pesos covers transportation as well as the tours.
Center for Global Justice




Calzada de la Luz 42


(between Loreto and Animas)


San Miguel de Allende

,

37700




Mexico